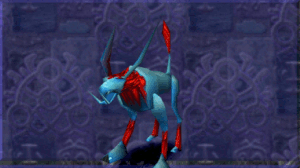 Basic Intel
| | | | |
| --- | --- | --- | --- |
| Attack | 190 | Defense | 170 |
| Magic Attack | 190 | Magic defense | 170 |
| Speed | 130 | 6th stat | 100 |
| | | | |
| --- | --- | --- | --- |
| Fire | 24 | Air | 32 |
| Earth | 54 | Water | 32 |
| Poison | 32 | Sleep | 48 |
| Flesh-To-Stone | 32 | Instant Death/Critical | 32 |
| Absorption | 32 | Standard Attacks | 32 |
Appearance
Weakest Form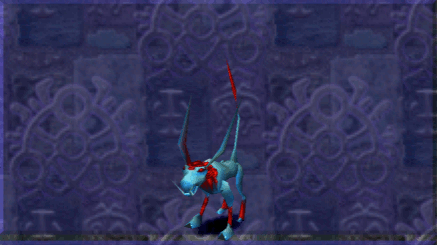 Fully Grown (downscaled image)
Appearance in the Eternal Corridor
Timaios appears in Corridor stages n with n=x*8+6. Rarely drops a Tendai Uyaku. After defeating it, there is a chance to obtain its skin which can be used when merging minions. This minion's skin has the skinventory-ID 5.
In battle
All bosses in the Eternal Corridor use infinite Mana, which allows them to use their attacks as often as they wish. Constantly uses its Fang - Absorb Mana + Power and Claw - Absorb HP + Power attacks.

Hints on defeating this boss
Use minions resistant to Absorption like Hirasag, Skwimel, and relatives.
Ad blocker interference detected!
Wikia is a free-to-use site that makes money from advertising. We have a modified experience for viewers using ad blockers

Wikia is not accessible if you've made further modifications. Remove the custom ad blocker rule(s) and the page will load as expected.