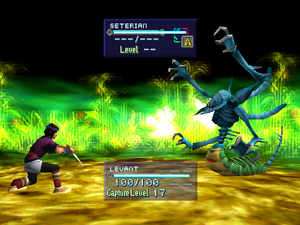 Basic Intel
| | | | |
| --- | --- | --- | --- |
| Attack | 170 | Defense | 120 |
| Magic Attack | 130 | Magic defense | 120 |
| Speed | 80 | 6th stat | 0 |
| | | | |
| --- | --- | --- | --- |
| Fire | 30 | Air | 15 |
| Earth | 15 | Water | 15 |
| Poison | 0 | Sleep | 0 |
| Flesh-To-Stone | 0 | Instant Death/Critical | 0 |
| Absorption | 16 | Standard Attacks | 10 |
Appearance in the story
Seterian is the minion of the Wind Boss. Its Level is 18. Sometimes it drops a Tendai Uyaku.
In battle
Uses a sleep attack, his hidden air spell and the hidden healing spell. It also uses another physical attack, Claw - Wind Attack, as the only one of the Netherworld bosses' minions (besides Cushidra). It can deal much damage even to pure fire minions because of the high attack grow rate and the locked air arena property.

Hints on defeating this boss
Use a minion with a low sleep Damage Modifier like Dogle or some Mirrors of Deva to avoid falling asleep. Also use fire or air attacks.
Ad blocker interference detected!
Wikia is a free-to-use site that makes money from advertising. We have a modified experience for viewers using ad blockers

Wikia is not accessible if you've made further modifications. Remove the custom ad blocker rule(s) and the page will load as expected.