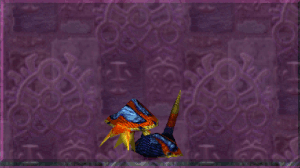 Basic Intel


Hexadecimal ID: 12
Finding places: Beetle Forest
| | | | |
| --- | --- | --- | --- |
| Attack | 120 | Defense | 130 |
| Magic Attack | 100 | Magic defense | 130 |
| Speed | 70 | 6th stat | 60 |
| | | | |
| --- | --- | --- | --- |
| Poison | 0 | Sleep | 28 |
| Flesh-To-Stone | 28 | Instant Death/Critical | 28 |
Appearance
Weakest Form
Fully Grown (downscaled image)
Items Dropped
Common
Rare
Related Minions
Close Relative
Trivia
Ironically, in the pre-retail release of Jade Cocoon 1, Nushab's common drop is a Shab Liquor.
- Nushab (and by extension, it's relatives) is the only pure minion with a Poison special attack, therefore making it a pseudo-signature move. Although all instances of Vatolka have Poison, it in fact has an erratic moveset which seems to change depending on the player's system or emulator, etc.
Ad blocker interference detected!
Wikia is a free-to-use site that makes money from advertising. We have a modified experience for viewers using ad blockers

Wikia is not accessible if you've made further modifications. Remove the custom ad blocker rule(s) and the page will load as expected.