Welcome to the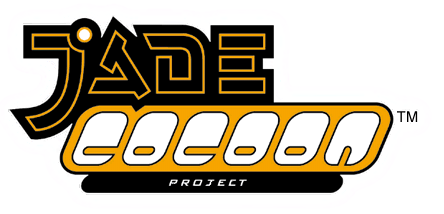 that anyone can edit
Welcome to the Jade Cocoon Wiki. Before you is the best online resource for Tamamayu Monogatari, the story of Jade Cocoon. It is a story of the one who shall lead our accursed nature to eternal repose. Here you will find a vast library of information and legends involved with the story of Jade Cocoon, including the people intertwined with the story itself, the forest minions, the history of Syrus and much more.
Your journey begins here.
Do you want to talk or help out? Find our Forum here!
Table of Contents
Edit
Older NewsEdit
09-08-15 Edit
Another page milestone!
We now have just over 1000 pages on this Wiki! Woohoo! Again, a lot of the are works in progress (WIP) but have been made already simply to cover all bases and to save having to go back on ourselves to edit later on. In addition, it means that there are next to no broken links on the pages. Me and Chimera-gui are currently (and have been) working hard on the new pages (mainly for Jade Cocoon 2), new templates and source code editing. Please feel free to contribute and don't hesitate to contact me or Chimera-gui if you need a hand or some help. Any friends or acquantences that you may have that like the game? Make sure to direct them here and be part of our community.
Watch this space for more merging news and our long awaited URL change!
Keep spinning,
CocoonMasterInity
Merging news
The 21-page Wiki (previously http://tamamayumonogatari.wikia.com/wiki/Jade_Cocoon:_Story_of_the_Tamamayu_Wiki) is now merged with our Wiki! The next (and at the moment, final) merge will be our biggest and most imporant one yet. Hopefully, this will be done by the end of this week or next week.
I've seen a few more faces around now, which is fantastic so please, revitalize the forums, ask questions and more importantly, play the game! I'm always around if you want to chat also.
Keep spinning,
CocoonMasterInity
Join the Chat
Latest News Edit
For archived news, see Book of Archives
Edit
30-09-15 Edit
Hello fellow Cocoon Masters!
So this month has been a bit quiet in terms of *major* updates and such, but here's a few things that are going on:
1) Flossome is doing fantastically well in going under the hood of Jade Cocoon 2, finding formulas, stats and hidden things that will help us understand the game even better.
2) Naali, the main contributor and de-facto owner (along with Levant of Syrus) of this wiki is back here contributing on occasions after a much needed break. If you're not sure about anything, he knows basically everything going on here so he's a great person to ask questons and such!
3) More Jade Cocoon 2 info is coming along slowly but surely, including move profiles, boss pages and minion pages.

If you know anybody who is a fan of the series, direct them here and get them to start contributing to this great wiki, as well as yourself! If you have any questions or concerns of any kind, feel free to ask Naali, Chimera-gui or myself.
Keep spinning,
CocoonMasterInity
24-08-15 Edit
New Wiki Functions & Features
As you may have noticed, we have new wiki functions available here! In line with Wiki Labs and other wikis, we now have Achievements, badges that you can earn as you make edits, add pictures and contribute to the wiki! We also have a Did You Know? section, where we'll put in some interestings facts about the game series that you may not know! In addition, we have a Live! Chat feature, where you can start a conversation with anybody that's currently signed in. For rules and regulations, please go here[1]. I'd also like to let you know that chimera-gui (as well as Naali and Levant of Syrus) have all been assigned as Chat Moderators.
Holiday
From 27-08-15 to 05-08-15, I'll be away in Greece. So, I may not be able to answer any questions or reply to any PMs, etc. Any questions or concerns you may have, please direct them to chimera-gui.
Keep spinning,
CocoonMasterInity
23-08-15 Edit
Interlanguage Wiki Links
As of a couple of weeks ago (as you may have noticed), we have link the Spanish and German (by Naali) wikis to this page, making them our official sister wikis! If any of you out there can contribute to them, that'd be a fantastic help! Of course, if any of your friends are JC fans and can contribute by translating the pages here to there, please ask me for more details.
Keep spinning,
CocoonMasterInity
Featured Video
Current Polls
Do you like the new theme?
Which is your favourite main game boss?
Latest Activity
Edit