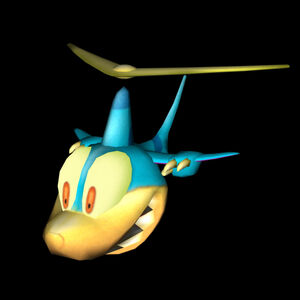 Basic Intel
Element: Wind
Genus: Alco
DB Number: 10
Stage: Basic
Location: Wind Shelter
Egg Location: N/A
Exp. Rate Growth: Normal
Personality: Bully

Seed Beast(s)
Related Seed Beast(s)
Stats & Description
HP: C Rank
MP: C Rank
Stat Graph
Beast Notebook Description
Found in the Wind Shelter, it may look comical. but its magic is quite powerful. Prepare for a long fight.
Base Stats
HP
8325
MP
6650
Strength
1425
Vitality
950
Wisdom
1900
Spirit
1675
Speed
2625
Growth Rates
HP
333
MP
266
Strength
55
Vitality
38
Wisdom
76
Spirit
67
Speed
115
Status Resistances
Petrify
0%
Poison
0%
Stun
0%
Confuse
0%
Sleep
0%
Blind
0%
Instant Death
0%
Attacks
Birth Skill
N/A
Main Skill(s)
N/A
Associated Skill(s)
N/A
Birth Magic
Main Magic
Associated Magic
N/A
Items Dropped
Common
Not currently known
Rare
Not currently known
Name Origin
Heli comes from Helicopter, a rotorcraft which Helibuzz is based on. By extension, Heli originates form the Greek word helix (ἕλιξ), meaning helix, spiral, whirl and/or convolution. Buzz comes from the fact that Helicopters (and similar aircrafts) make a kind of buzzing when operated.
Related Minions
Family
Extended Family
Genus
Trivia
Helibuzz (and it's evolutions and relatives, minus Mechalcoch and Deprolcoch) are the only Divine Beasts not based on an animal, plant or mythological creature, instead being based on a human invention.
Ad blocker interference detected!
Wikia is a free-to-use site that makes money from advertising. We have a modified experience for viewers using ad blockers

Wikia is not accessible if you've made further modifications. Remove the custom ad blocker rule(s) and the page will load as expected.