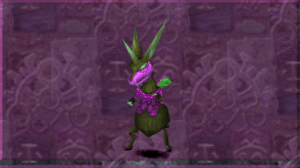 Basic Intel
| | | | |
| --- | --- | --- | --- |
| Attack | 140 | Defense | 130 |
| Magic Attack | 100 | Magic defense | 80 |
| Speed | 150 | 6th stat | 100 |
| | | | |
| --- | --- | --- | --- |
| Fire | 32 | Air | 16 |
| Earth | 32 | Water | 64 |
| Poison | 0 | Sleep | 0 |
| Flesh-To-Stone | 0 | Instant Death/Critical | 0 |
| Absorption | 16 | Standard Attacks | 24 |
Appearance in the story
Goat is the minion of the Poacher in the Dragonfly Forest. Its model resembles Spiral. Its Level is 5 and it rarely drops an Iron Axe after the fight.
In battle
It is able to use a Claw - Fire Attack, up to three times.
Hints on defeating this boss
As an almost simple fire minion, water attacks - especially spells - are highly recommendable. Arpatron's Vahli can be used to deal great damage quickly. Negative status are almost impossible to cause and it also takes decreased damage by standard attacks.
Notes
This minion's posture has the hidden Increased special attack efficiency ability.
Ad blocker interference detected!
Wikia is a free-to-use site that makes money from advertising. We have a modified experience for viewers using ad blockers

Wikia is not accessible if you've made further modifications. Remove the custom ad blocker rule(s) and the page will load as expected.