Detailed below are all of our Wikia's featured videos, including the date when they were replaced and links, etc. The videos are arranged by the date they were added to the Wikia and their description includes the date they were replaced.
1. Jade Cocoon Any% Speed Run 58:06 [WR]
Edit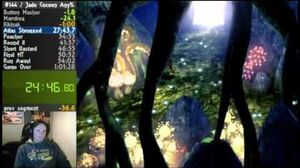 This was the first ever featured video on the Jade Cocoon Project Wikia. As described by Jack Of Hearts himself (the composer of this speed), "
This is the culmination of 4 months of work. Not a perfect run but I am happy with this for now
." He goes on to say that he would do the run again if he obtains an NTSC Playstation 2 console (due to it potentially having better load times than an emulator) or if other skipping methods are found.
Jack Of Hearts utilises the Hunter Transit glitch in his speed run, a glitch he himself discovered. The glitch can transport Levant from one of the "loading zones" in each forest to another place, which can help quicken the adventure, though this glitch is known only to work effectively in the NTSC version of the game, though it may be possible in the PAL version with more precision.
In addition, it is the current world record in speed runs for Jade Cocoon: Story Of The Tamamayu. It was added as the featured video by Naali on 1 December 2014 at 15:19, German time and was removed on 7 July 2015 at 23:29, British time. It was the only featured video for 2014.
2. Koris ~ The Blue Cocoon Master [cover] (Kimitaka Matsumae (Jade Cocoon OST, 1998))
Edit
This is a cover of the song Koris ~ The Blue Cocoon Master by SOLaharl, originally composed by Kimitaka Matsumae. It is an acoustic cover with the main melody hummed by SOLaharl. Though he states he didn't like the game too much, he says that the song is "
another forgotten masterpiece of the last century
." and praises the production and melodies and overall, describes the soundtrack as kick ass. It was added on 7 July 2015 at 23:29 by CocoonMasterInity and is the current featured video for the Jade Cocoon Project Wikia.
Related Links
Edit