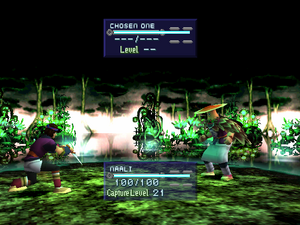 Basic Intel
ID: 37
| | | | |
| --- | --- | --- | --- |
| Attack | 130 | Defense | 100 |
| Magic Attack | 130 | Magic Defense | 70 |
| Speed | 130 | 6th Stat | 190 |
| | | | |
| --- | --- | --- | --- |
| Fire | 48 | Air | 48 |
| Earth | 48 | Water | 48 |
| Poison | 0 | Sleep | 0 |
| Flesh-To-Stone | 0 | Instant Death/Critical | 0 |
| Absorption | 16 | Standard Attacks | 48 |
Appearance in the Story
The Chosen One of Darkness is the final boss of Jade Cocoon. The player might recognise him as he looks exactly like the Dream Man. He appears as soon as Levant defeats the Earth Boss and the four Jewels summon him. His Level is 23. Somehow he always summons his minion, Cushidra and commands an arena property change to Earth before Levant can do anything in the first fight .
After the battle, he reveals his true identity: Riketz.

Hints on defeating this boss
Use, if possible, the element which Cushidra last changed to or standard attacks.
Notes
This minion's posture has the hidden Increased special attack efficiency ability.
Ad blocker interference detected!
Wikia is a free-to-use site that makes money from advertising. We have a modified experience for viewers using ad blockers

Wikia is not accessible if you've made further modifications. Remove the custom ad blocker rule(s) and the page will load as expected.