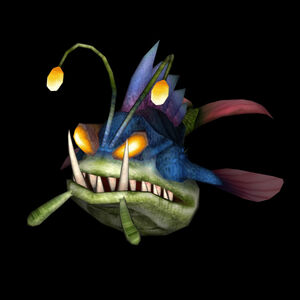 Basic Intel
Element: Water
Genus: Na
DB Number: 27
Stage: Evolved
Location: Water Forest
Egg Location: N/A
Exp. Rate Growth: Slow
Personality: Bully

Seed Beast(s)
Related Seed Beast(s)
This Divine Beast has no related Seed Beasts.


Stats & Description
HP: C Rank
MP: C Rank
Stat Graph
Beast Notebook Description
Attracts prey with the magic emitted by the lamp on it's forehead. There are similar Earth types.
Base Stats
HP
9750
MP
7800
Strength
2550
Vitality
1650
Wisdom
2100
Spirit
1950
Speed
1650
Growth Rates
HP
325
MP
244
Strength
105
Vitality
55
Wisdom
70
Spirit
65
Speed
55
Status Resistances
Petrify
75%
Poison
75%
Stun
75%
Confuse
50%
Sleep
50%
Blind
50%
Instant Death
0%
Attacks
Birth Skill
Main Skill(s)
Associated Skill(s)
N/A
Birth Magic
N/A
Main Magic
N/A
Associated Magic
Items Dropped
Common
Not currently known
Rare
Not currently known
Name Origin
Angl comes from Anglerfish (particularly,

Black Seadevils

), a type of bony fish known for their characteristic mode of predation, via a fleshy growth (esca or illicium) which acts as a lure. org may come from organ or orb, of which the aforementioned esca is, that being an organ and a kind of light emitting orb.
Related Minions
Family
Extended Family
Genus
Trivia
Anglorg (as well as it's extended family) have the highest Base Strength and Strength growth rate of all Na Divine beasts over each of it's stages.
Ad blocker interference detected!
Wikia is a free-to-use site that makes money from advertising. We have a modified experience for viewers using ad blockers

Wikia is not accessible if you've made further modifications. Remove the custom ad blocker rule(s) and the page will load as expected.